Stakeholder Quality Assurance Panels Project (SQAP) audit on 17-19 January 2018
News
January 18, 2018 About the EUIPO
Stakeholder Quality Assurance Panels Project (SQAP) audit on 17-19 January 2018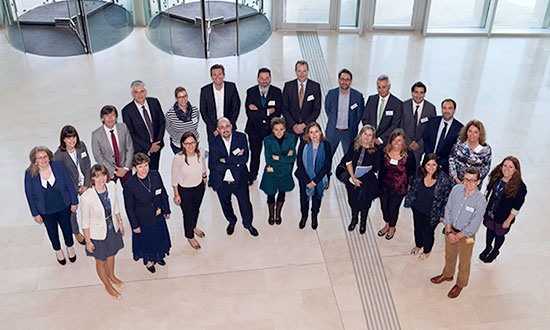 On 17-19 January 2018, EUIPO welcomes the fourth of a series of quarterly audits performed by users on the quality of opposition decisions.
As part of its 2020 Strategic Plan, EUIPO set the goal of enhancing customer-driven quality services by being user-oriented and focusing on the quality of EUIPO's products and services. Pursuing this goal, the Stakeholder Quality Assurance Panels (SQAP) project started in 2017 as an innovative project involving users in the quality management of the Office and improving the quality of the Office decisions.
In particular, SQAP aims at bridging the gap between the users' perception of quality and the internal quality measurement results.
During two days, 16 auditors representing 10 User Associations meet on EUIPO premises and check EUIPO opposition decisions in order to assess their quality in accordance with the established Office quality criteria. The checks are done on a sample of decisions that underwent ex-post quality check by the Office.
Participating auditors and the respective User Associations:
Participating auditors and the respective User Associations:
Nathalie Luis AIM
Marieke Westgeest AIPPI
Stève Félix APRAM
Geoffrey Weller CITMA
Benjamin Fontaine ECTA
Tamás Kocsis ECTA
Tobias Dolde ECTA
Elia Sugrañes FICPI
Roberto Kunz-Hallstein GRUR
Stephan Biagosch GRUR
Cristina Bercial-Chaumier INTA
Jana Bogatz INTA
Paola Ruggiero INTA
Minna Aalto-Setälä International Chamber of Commerce
Roland Mallinson MARQUES
Zsófia Klauber MARQUES
In SQAP, the users have the chance to play an active role in the Office quality processes; through a dialogue with them, EUIPO receives the users' feedback and integrates this input into the Office's quality management system.
The panels have proven to be a valuable and successful learning exercise for both the Office and its users.
EUIPO would like to thank the representatives of User Associations for taking part in this initiative and for their engagement.
In 2018, SQAP audits will be extended to the examination on absolute grounds.