A new Customer Service Charter
News
May 06, 2022 About the EUIPO
A new Customer Service Charter
´
The Customer Service Charter (CSC) describes the level of service excellence the EUIPO aims to deliver. Through the CSC, the Office manages customer expectations concerning the delivery of products, quality standards, and conflict resolution.
The CSC has been updated to strike a balance between targets and users' expectations while preserving the Office's commitments: quality, timeliness, and accessibility.
For each indicator, three levels are defined:
'Excellence' (the level for which we strive),
'Compliance' (the level considered acceptable),
'Actions needed' (the Office needs to act to raise the performance standard to 'Compliance').
When an indicator is in 'Actions needed', the Office analyses the situation and publishes an explanation - on its website - regarding the actions taken to restore the 'Compliance' level.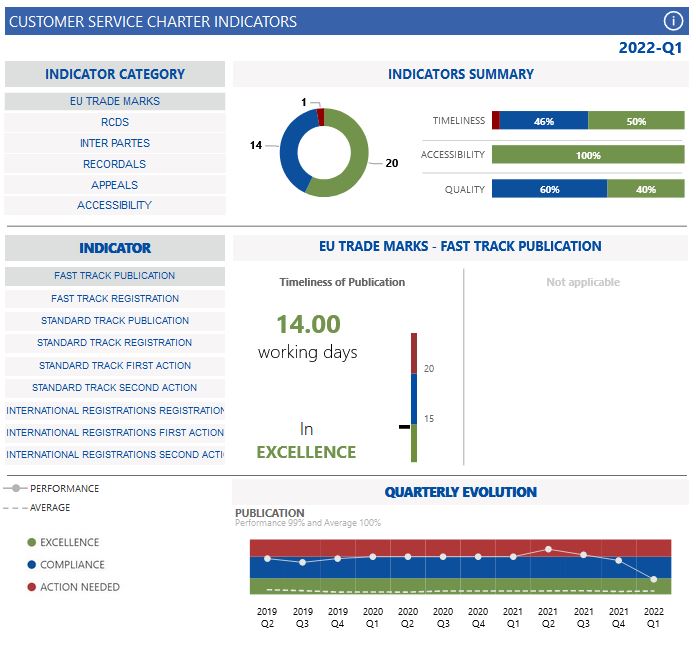 Timeliness
The Office's priority to maintain its CSC timeliness commitment particularly focuses on Fast Track cases, given the sustained growth in EUTM direct filings.
Fast Track universes have been adjusted to 99 % of total cases to reflect the true impact of minor and/or temporary issues.
Four new indicators have been included to measure second actions for EUTMs, International Registrations, Registered Community Designs (RCDs), and Recordals to help accelerate the notification of decisions, as well as one new indicator to measure non-straightforward first action for Recordals.
The timeliness level for cancellation decisions has been increased by 1 month, requiring more than 6 months for a cancellation decision to be reported as 'actions needed'. This additional month gives the Office flexibility to move cancellation decision-takers to the opposition decisions area to maintain timeliness under control, while the cases compliant with quality criteria for cancellation decisions remain within 'excellence' level.
The scope for 'timeliness to answer to proceedings customer's communications' was increased to 15 working days to be reported as 'actions needed'.
Accessibility
A new indicator for Accessibility measures 'chats answered by the Information Centre' as a new channel of communication with users and other relevant stakeholders, to ensure that the proposed improvements provide benefits and value-added for the targeted businesses or users.
Quality
By the end of the first quarter of 2022, the Office had attained a 97.1 % level of achievement in its Quality Service Charter objectives, with a level of commitment successfully met in all cases for quality of decisions.
Positive performance results
Achieving positive performance results in all EUTM and RCD operations over an extended period has allowed the Office to add new KPIs to the CSC on timeliness while defining several actions to reduce the max time to respond to customers' communications for all inter partes proceedings (EUTM opposition and cancellation as well as RCD invalidities). Starting the 2021 with 19 working days and ending with 12 working days.
In a year characterised by an unprecedented increase in the number of filings, the Office has not only met its objectives, but strived for excellence.
For more details, visit our Customer Service Charter