First Session of the 31st User Group Meeting at EUIPO
News
October 12, 2021 EU Intellectual Property Network
First Session of the 31st User Group Meeting at EUIPO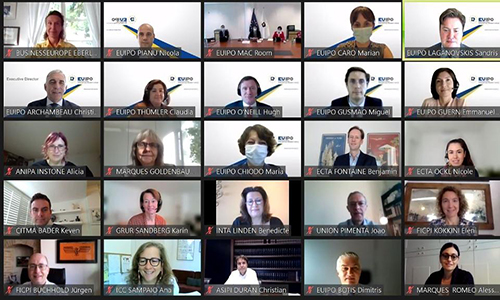 On 11 October, the User Associations, which are part of the EUIPO User Group, participated in the first session of the 31st User Group Meeting.
The Executive Director opened the session by celebrating the Office's most important results this year, including the 2 million EU trade mark registrations and 1.5 million design registrations reached on September 27th, two major milestones for the Office. Despite the increased workload, the Service Charter indicators continue to meet the users' satisfaction.
The Deputy Executive Director provided an update on the initiatives dedicated to SMEs that have been implemented thus far and consulted with the User Associations on their ideas for future initiatives.
Participants also had the opportunity to discuss the most recent case-law of the Boards of Appeal and the General Court, as well as the steps taken to improve the quality of the Interactive Collaborative Examination (ICE) initiative in order to increase its efficiency.
The session ended with an update on the EUIPO's efforts to combat deliberate misuse of User Area credentials, as well as an overview of the consultation cycle on the Trade Marks and Designs Guidelines.
The second and third online sessions will take place on 27 and 29 October.
For more details, please contact the User Associations team in the Institutional Relations Service in ICD (UserAssociations@euipo.europa.eu).