Serbian IP Office now aligned with CP8
News
June 10, 2021 General
Serbian IP Office now aligned with CP8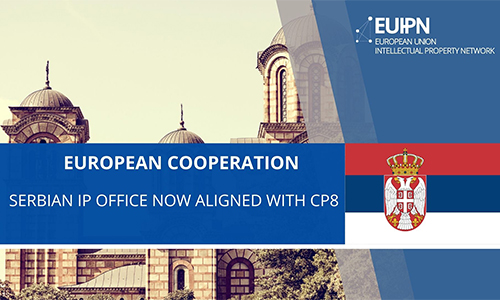 The Intellectual Property Office of the Republic of Serbia (IPORS) has updated its methodology to include the principles of the Common Practice (CP8): Use of a trade mark in a form differing from the one registered, which was developed by the European Union Intellectual Property Network (EUIPN).
IPORS is the first non-EU IP office to adopt the criteria listed under CP8. This achievement follows the implementation of CP3: Distinctiveness – Figurative Marks containing descriptive/non-distinctive words, and CP5: Relative Grounds of Refusal – Likelihood of confusion (impact of non-distinctive/weak components), and is the result of the joint effort and collaboration between IPORS and the EUIPO, within the framework of their international cooperation activities.
In addition to being included in the IPORS methodology, the CP8 principles can also be found in the Practice Paper below, which provides a clear and comprehensive explanation of the principles on which the practice is based. It assesses the impact of additions, omissions and modifications of characteristics, when these changes appear alone or in combination, on the distinctive character of registered word marks, figurative marks and composite marks (combinations of verbal and figurative elements).
The CP8 Practice Paper has been made publicly available in Serbian and English. The publication aims to increase transparency, legal certainty and predictability for the benefit of the users and examiners of the IP offices. It is also intended as a point of reference for these and any other interested parties.
The document is divided into two parts. The first part summarises the criteria, while the second part provides a complete explanation of the specific criteria applicable in each case.
Practice Paper

SERBIAN

ENGLISH