The EUIPO among the Ombudsman Award's 37 nominees
News
May 12, 2021 About the EUIPO
The EUIPO among the Ombudsman Award's 37 nominees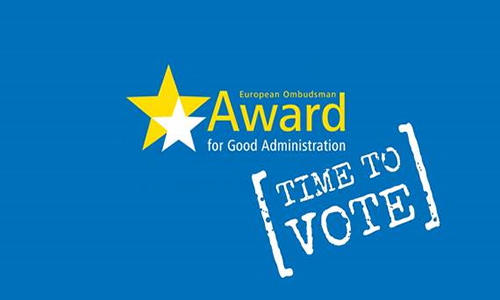 The European Ombudsman has published the list of 37 projects that have been nominated for the third edition of the Award for Good Administration. The list includes the EUIPO's CdT Transformation Programme and the Ideas Powered for Business initiative and the SME Fund.
This year, for the first time, members of the public are invited to vote for their favourite project. The digital award ceremony will take place on 24 June 2021 from 10.00 to 11.30.
Project 10 - EUIPO: a big heart for small businesses
The first project submitted by the EUIPO focuses on how the Office put together a rapid response mechanism to help SMEs recover from the devastating effects of the pandemic. The Ideas Powered for Business initiative has helped hundreds of SMEs access free intellectual property support, including free legal consultation, and an effective dispute resolution system. The EUIPO also began work on a mobile-friendly, easy filing tool for trade mark registration. Launched in June 2020, the hub attracted over 34 000 visitors in less than six months and more than 230 IP law firms offering pro bono services. Close to 360 SMEs from over 14 EU countries have benefited from the initiative.

Project 16 - artificial intelligence to serve a multilingual EU
The second project submitted was a joint application. The CdT and the EUIPO joined forces for a two-year cooperation programme (2019-2020), the CdT Transformation Programme, which focused on using artificial intelligence (AI) to respond to the multilingual communication needs of the EU institutions and bodies. The new services - including neural machine translation and speech to text technology - are now up and running. By using the most innovative language technologies based on AI, the programme has expanded the possibilities of multilingual communication for people living in the EU.

The Ombudsman Award
The European Ombudsman 'Award for Good Administration' takes place every two years and acknowledges good administration at EU level. This is not the first time that the EUIPO has applied for this award. In 2017, the EUIPO won an award together with the European Agency for Safety and Health at Work (EU-OSHA) and with the Translation Centre for the Bodies of the European Union (CdT) for managing multi-lingual websites.