EUIPO commemorates Europe Day
News
May 05, 2021 About the EUIPO
EUIPO commemorates Europe Day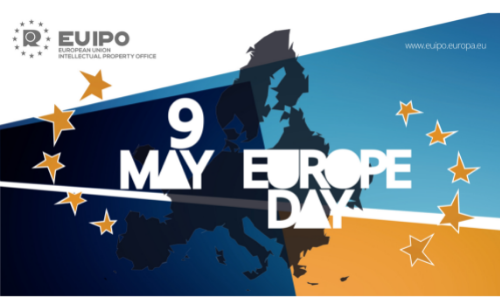 Like every year, the EUIPO pays tribute to Europe Day on 9 May. This date is the anniversary of the Schuman Declaration, pronounced on 9 May, 1950, which is considered the beginning of the European Union as we know it.
To commemorate this date, dedicated to the European spirit and solidarity, the Santa Bárbara castle, the Plaza de los Luceros and the Provincial Palace of the Diputación de Alicante, will be illuminated in blue, the color of the European flag, from Saturday, 8 May at midnight to Sunday, 9 May until 23.59.
This Europe Day edition will also celebrate the inauguration of the 'Conference on the future of Europe', an initiative of the European Parliament, the European Council and the European Commission. The Conference is a citizen-led series of debates and discussions that will enable people from across Europe to share their ideas and help shape a common future.
EU decisions have an impact on our daily lives. The multilingual platform will be fully interactive: people can engage with one another and discuss their proposals with fellow citizens from all Member States, in the EU's 24 official languages. More information on how to get involved.
9 May is an important day that the EUIPO celebrates in unison with the rest of the European Union. You may follow #EuropeDay or #DíadeEuropa on the EUIPO's social media channels.