SME Fund: Save up to €1500 on your intellectual property costs
News
May 03, 2021 About the EUIPO
SME Fund: Save up to €1500 on your intellectual property costs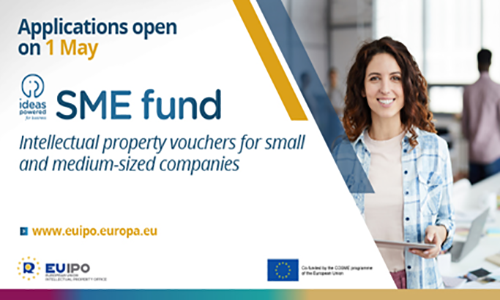 1-31 May: The 3rd application window for the Ideas Powered for Business SME Fund is now open!
Worth up to €1500 in reimbursement of intellectual property costs, the scheme can help with basic application fees, or pre-diagnostic services to help you develop your IP strategy.
In cooperation with the European Commission, the EUIPO is helping European SMEs access financial support from the SME Fund grant scheme.
But be careful not to miss out! Requests for support can only be made during one of the five application windows, and the third window opens today. It will run from 1 -31 May, with two more windows planned for June and September.
More information in all EU languages on how to apply can be found here:
The EUIPO is here to help. We can also put you in touch with IP experts that offer their services free of charge for any intellectual property matter. Apply here for free personalised consultations offered by IP experts from all over the EU. We will match you with IP experts according to your needs and that speak your language.