News
April 13, 2021 About the EUIPO
EUIPO-DG TRADE meeting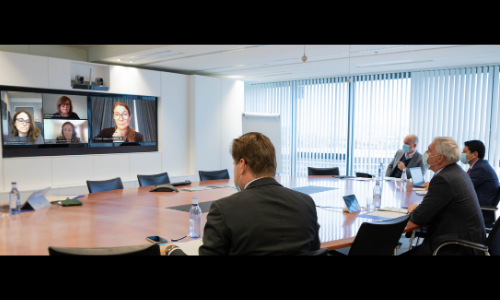 The Executive Director of the EUIPO, Christian Archambeau, has met Ms Helena König, Deputy Director-General, and Ms María Martin-Prat, Director responsible for Intellectual Property, of the European Commission's Directorate-General for Trade (DG TRADE) via videolink on 12 April 2021.
This meeting followed up on a previous meeting held on 27 January 2020 between Mr Archambeau and Ms Weyand, Director-General of DG TRADE. The participants focused on the review of the EU Trade Policy launched by DG TRADE on 18 February 2021, and the relevant areas of the EUIPO's Strategic Plan and Annual Work Programme 2021.
The discussion also served to find synergies for future activities of common interest and define potential next steps. Mr Archambeau expressed the EUIPO's willingness to support DG TRADE in IP-related activities and programmes within the priority areas and regions under the recently adopted EU Trade Policy.
Through these online gatherings with EU representatives, the EUIPO is actively seeking to contribute to the European Commission and EU institutions' policies within the field of IP rights and their protection.