IP Mediation Conference 22-23 March 2021 (online event)
News
February 18, 2021 About the EUIPO
IP Mediation Conference 22-23 March 2021 (online event)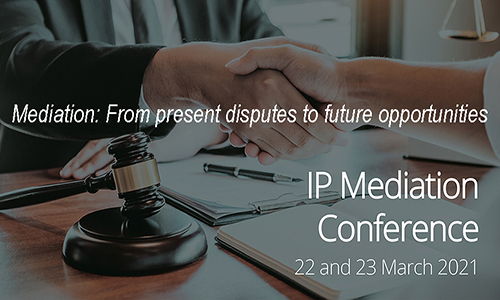 "I think mediation is a very flexible tool that can be tailored to the needs of the parties, in a particular dispute, and that's probably what makes this dispute resolution mechanism very attractive to companies. Mediation doesn't always need to be the only solution and there are other ways of resolving disputes through negotiation or arbitration or court resolution, but definitely mediation offers that flexibility that in certain moments of time it is really appreciated."
José Checa, General Counsel Brand, Marketing Properties & Licensing at Nestlé. Speaker at the 2019 IP Mediation Conference.
The EUIPO Boards of Appeal, together with the EUIPO Academy and the International Cooperation and Legal Affairs Department of EUIPO, are organising the third IP Mediation Conference, which will be held online on 22-23 March 2021.
Leading experts from national and international institutions, academia and from EUIPO itself will gather to address a wide range of topics in the field of intellectual property mediation.
Take a look at the conference programme and register via this link