EUIPO Executive Director meets the Director General of the Intellectual Property Office of the Philippines
News
January 19, 2021 About the EUIPO
EUIPO Executive Director meets the Director General of the Intellectual Property Office of the Philippines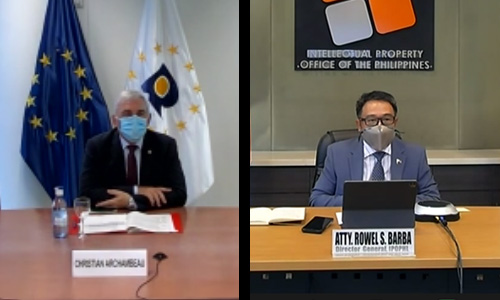 On 19 January, the Executive Director, Mr Christian Archambeau, met virtually with Mr Rowel S. Barba, Director General of the Intellectual Property Office of the Philippines (IPOPHL).
The discussion focussed on key developments in both Offices, as well as the priorities of the bilateral EUIPO-IPOPHL cooperation, and under the EU-funded projects.
In addition, Mr Archambeau outlined the latest achievements under the EUIPO's Strategic Plan 2025 (SP2025), with a focus on leadership challenges and the Office's role in supporting the needs of innovative SMEs through various IP initiatives.
Within the SP2025 and the new 'Broaden the Cooperation Framework outside the EU' project launched in January 2021, both the EUIPO and the IPOPHL explored potential synergies to promote the convergence of practices, tools and databases for trade marks and designs, in order to provide high-quality IP services to users.