Executive Director meets Director General for Taxation and Customs Union (DG TAXUD)
News
January 15, 2021 About the EUIPO
Executive Director meets Director General for Taxation and Customs Union (DG TAXUD)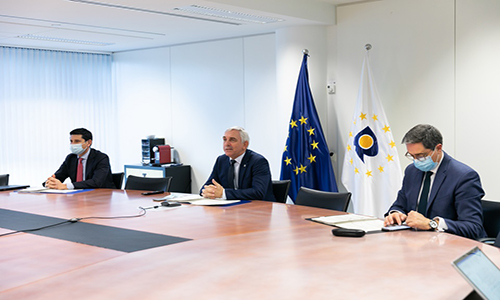 On 14 January, the Executive Director of the EUIPO, Christian Archambeau met Director-General of DG TAXUD, Gerassimos Thomas.
The EUIPO's Deputy Executive Director, Andrea Di Carlo, the Head of Cabinet, Ursula Schildt, the the Director of International Cooperation and Legal Affairs Department, João Negrão, and the Director of the Observatory, Paul Maier also attended the meeting.
A general introduction was provided on EUIPO's scope of activities and on the SP2025, highlighting the contribution of strong IP protection as a common value in different EU policy areas, including customs, to create growth and jobs. A special focus was put on the partners in areas meant to deliver IP value for businesses like the development of databases (COPIS and the IP Enforcement Platform).