European cooperation: fast track for trade marks in Latvia
News
December 11, 2020 General
European cooperation: fast track for trade marks in Latvia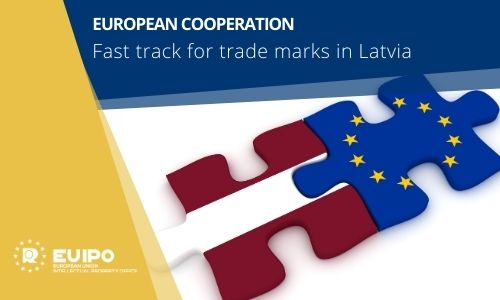 On 10 December, the Patent Office of the Republic of Latvia, with support of the EUIPO's European Cooperation Projects, launched a fast track function for new trade mark applications in both its front and back office systems. Users will now be able to benefit from this service via the office's web page.
The fast track function is designed to make the filing of trade mark applications, and the registration process itself, faster and more efficient. The fast track smart guide, which is built into the front office system, will help users meet fast track criteria when filing a new trade mark application. In addition, the automated validation mechanism (in the back office system) means examination will now take considerably less time, thus speeding up the application and examination process as long as the fast track criteria are adhered to.
The fast track function will speed up the application process and will be much easier to use, which is expected to improve user satisfaction.
These improvements were made within the framework of the European Cooperation projects at the EUIPO. The aim of these projects is to benefit users across the EU by providing European IP offices with modern, state-of-the-art tools and services.