EUIPO and EIT: Innovation and Intellectual Property hand in hand
News
October 08, 2020 About the EUIPO
EUIPO and EIT: Innovation and Intellectual Property hand in hand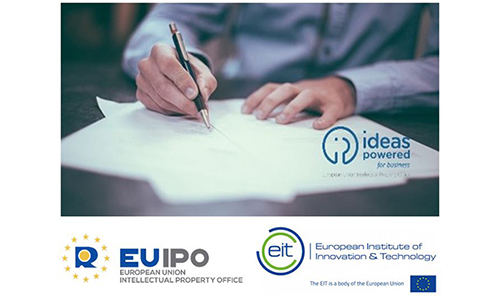 The EUIPO and the European Institute of Innovation and Technology (EIT), have signed an agreement that brings together innovation and intellectual property for the benefit of European small and medium size enterprises (SME).
The EIT is an independent body created by the European Union in 2008, to promote entrepreneurship and drive innovation across Europe by integrating business, education and research. The EIT supports early and subsequent growing stages of newly created companies, and the protection of innovation and creativity through intellectual property (IP) at this stage is key to access the market safely and give value to products and services.
Both organisations play a complementary role in supporting SMEs and entrepreneurs and, as a result, the European economy as a whole. For the EIT KICs, this agreement is an excellent opportunity to increase SME knowledge on IP to fully benefit from the protection that IP brings in the global market. With this collaboration, the EIT and the EUIPO intend to find further areas of cooperation through initiatives that support SMEs through the KICs, exchange of tools, training models, events, webinars and content.
Background:
The EIT strengthens Europe's ability to innovate by powering cutting edge solutions to pressing global challenges and by nurturing entrepreneurial talent to create sustainable growth and skilled jobs in Europe. The Institute brings together the three key players in innovation – business, higher education and research – to form dynamic Pan-European partnerships, the EIT Knowledge and Innovation Communities (KICs). Each EIT KIC is dedicated to tackling a specific societal challenge, from climate change and sustainable energy to healthy living and food.
The EUIPO under its Strategic Plan 2025,and in line with its SME Programme, has recently launched its 'Ideas Powered for business' hub with made to measure information for SMEs as well as the possibility to sign up for free personalised legal advice on their intellectual property questions.
Tag: #ipexcellence