EUIPO and Accountancy Europe collaborate together to support SMEs
News
September 24, 2020 About the EUIPO
EUIPO and Accountancy Europe collaborate together to support SMEs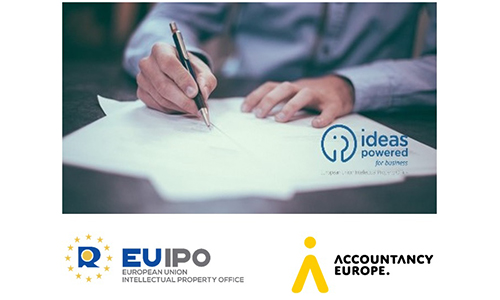 The European Union Intellectual Property Office (EUIPO) and Accountancy Europe have signed a collaboration agreement in order to provide guidance and promote the benefits of Intellectual Property (IP) registration to SMEs.
Accountancy Europe unites 51 professional organisations from 35 countries that represent one million qualified accountants, auditors and advisors. These professionals, in direct contact with SMEs all over Europe, are in an ideal position to promote the importance of IP rights (trademarks, patents, designs, etc.) at the right moment in the SME business lifecycle.
In addition, members of Accountancy Europe will benefit from the knowledge, tools and resources on IP which will allow them to point their SME clients in the right direction on IP matters.
The EUIPO is the European agency responsible for managing registrations of the EU trade mark and the registered Community design valid in all EU member states. As part of its Strategic Plan 2025, the SME Programme under the Ideas Powered for business' brand aims to support and empower SMEs on their business journey. The recently launched 'Ideas Powered for business' hub offers made-to-measure information to SMEs, as well as the possibility to sign up for free personalised legal advice on their intellectual property questions.
Both organisations aim to unite forces and create synergies in the benefit of SMEs. This agreement covers activities such as promoting training modules on Intellectual Property among SMEs, joint webinars, as well as dissemination of content on IP on the respective websites.