IPforYou: the EUIPO and the INPI
News
July 14, 2020 News
IPforYou: the EUIPO and the INPI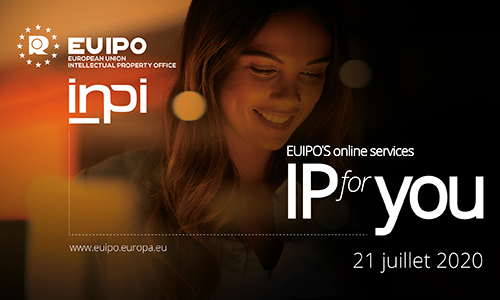 The EUIPO and the INPI are organising a morning IPforYou session on 21 July.
Aimed at IP professionals, this will be an online session designed to provide a refresher of the key changes brought in by the PACTE law, followed by a presentation on inter partes proceedings for trade marks at the EUIPO.
The event will be held via Zoom from 10.00 to 11.30.
If you wish to take part, you can register here. You will receive a confirmation email containing a link and joining instructions.
Schedule:
10.00 10.05 Introduction
10.05 10.35 The PACTE law - developments in the field of trade marks: measures which came into force on 11 December 2019 aimed at making it easier for businesses to protect and defend their trade marks.
10.35 11.15 Inter partes proceedings for trade marks at the EUIPO: the clever way to bring proceedings before the EUIPO ‑ what you need to know.
11.15 11.30 Questions and answers