EUIPO User Group meeting – Second online session
News
May 15, 2020 EU Intellectual Property Network
EUIPO User Group meeting – Second online session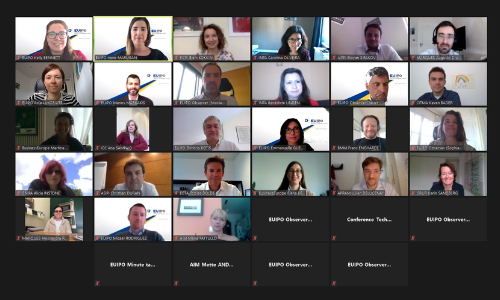 The EUIPO hosted second online session of the 28th User Group meeting on 15 May 2020.
This second session focused on matters relating to the revision cycle and consultation process of the Office's Guidelines for Examination, as well as on procedural malpractices concerning attempts to circumvent the requirement of mandatory representation before the EUIPO.
The Office is doing its utmost to maintain its direct channels of communication and discussion with the User Group adapted to the current circumstances and through virtual platforms. The Spring User Group meeting, which was planned for 12-13 March 2020, has been rescheduled in different parts and dates, concentrating on specific topics.
A first online session was held on 29 April 2020 and served to consult the user representatives on the phases of the evaluation of results and benefits of the European Cooperation Projects (ECP 1-5) under the Strategic Plan 2020, in compliance with Article 152(2).
A third online session is scheduled on 8 June 2020 and will focus on the European Cooperation Projects under the new Strategic Plan 2025, and the next steps during the second half of 2020 and 2021.
The purpose of the EUIPO User Group meeting is to bring together user associations to exchange views on common subjects of interest, discuss questions on procedures, practices and tools, as well as to make sure that the EUIPO activities remain user-focused.