Virtual Informative Sessions on European Cooperation Projects
News
April 06, 2020 General
Virtual Informative Sessions on European Cooperation Projects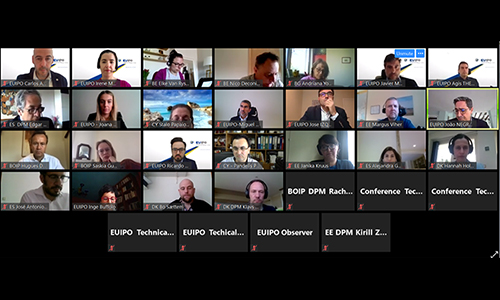 On 6-8 April 2020, the EUIPO organised a series of virtual informative sessions with intellectual property offices to review the future development of the European Cooperation Projects (ECP) during the second half of 2020 and 2021.
These virtual events, the first of their kind, convene participants from all intellectual property offices of the EU as well as the Benelux Office for Intellectul Property (BOIP), which are members of the European Union Intellectual Property Network (EUIPN), to discuss the future development of the ECP within the context of the EUIPO's Strategic Plan 2025.
93 members from IP offices, including several Directors, trade mark and cooperation managers and points of contact, together with EUIPO staff, will review the interface of the new Small and Medium Entreprises (SME) programme and the ECP 6 as well as the next steps for each of the eight new European Cooperation Projects to be launched as from July 2020.
The meeting enables participants to identify offices interested in taking part in specific project working groups as well as to implement solutions developed by the projects, including software solutions and common practices. This way, the EUIPN members can prepare themselves for the definition and implementation of the first actions on the ECP defined by the EUIPO Management Board in its November 2019 session.
This experience will pave the way towards a continuous adaptation of the EUIPO's cooperation and stakeholder management actions to the limitations imposed by the current COVID19 pandemic, including the organisation of virtual meetings with the EUIPO's stakeholders. In doing so, the EUIPO continues to innovate and improve its services towards both stakeholders and users.