DesignClass integrated in EUIPO's design efiling
News
November 02, 2017 About the EUIPO
DesignClass integrated in EUIPO's design efiling
EUIPO's design efiling is now connected to DesignClass, the online tool for harmonised product indications. This means that once users reach the product indication stage of their efiling application, they can now browse and select terms from DesignClass
Once users reach the product indication stage of their efiling application, they can now browse and select terms from DesignClass.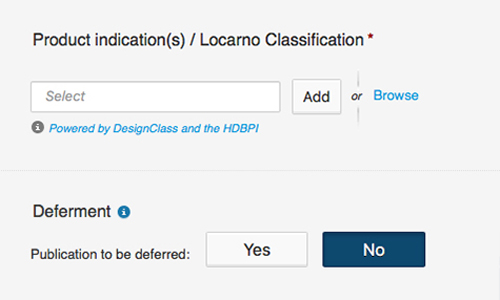 DesignClass is the online search tool for harmonized product indications and has been designed to help users find product indications in the Harmonised Database that best match the goods to which a design applies.
With its integration in EUIPO's efiling, users will be able to reap the benefits of the Harmonised Database of Product Indications (HDBPI):
More product indications to choose from: the HDBPI which is at the heart of EUIPO's DesignClass, contains not only the Locarno product indications, but also the many more that are accepted by EU-based IP Offices and the EUIPO.
Easy access: the HDBPI follows the same structure of classes and subclasses as the Locarno Classification. The tool contains a tree structure to make it easy for users to find the correct product indication(s).
Available in 23 EU languages: selecting a product indication from the database can help reducing the translation costs when claiming a priority of a previously filed application in Europe.
DesignClass has also been integrated in other search systems with a design component, such as DesignView and eSearch Case Law.
How does the HDBPI look like?
The Locarno Classification consists of product indications that are structured into classes and subclasses organised by type of goods. The HDBPI mirrors the Locarno classification but also adds further levels (sub-subclasses) to it.