Visual search for EUIPO, INPI and UKIPO trade marks in TMview
News
May 22, 2017 General
Visual search for EUIPO, INPI and UKIPO trade marks in TMview
A new visual search facility is now available in TMview, the world's largest free, online trade mark database.
It is now possible to search over five million trade marks from EUIPO, the
Institut national de la propriété industrielle
(INPI) and the
United Kingdom Intellectual Property Office (UKIPO)
within TMview using images.
The image search facility will be extended to more IP offices that have made their data available to TMview later in the year.
There are just three steps to follow when searching for images in TMview:
Step 1:
Click on the camera icon

to display the 'Drag and drop or upload image' box.
Step 2:
You can drag and drop an image into the search field in the four formats accepted: JPG, PNG, GIF and TIFF. Or you can click on the cloud icon to the right of the box to upload a saved image from your computer.



Step 3 :

Once your image is uploaded, you can use the red box which appears around the image to select the area you want to search for.

You can use the two icons at the bottom of the search field to display your results in gallery mode or in list mode.

And you can search for colour per se marks too.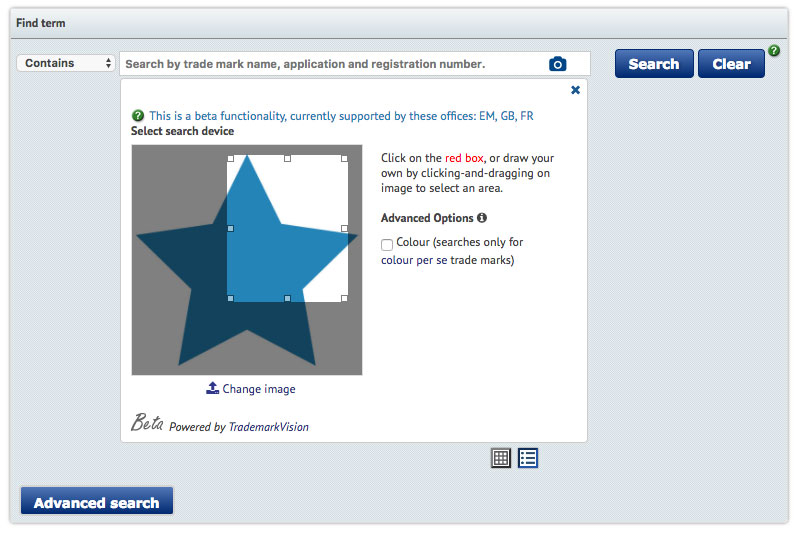 Better searching:
TMview now also offers a better and more responsive search facility, based on user feedback.
It is now possible to search directly by application and registration number in the basic search mode, and more translation options for goods and services are available within the tool itself.
TMview contains nearly 43 million trade marks from 57 global IP offices. Since its launch in 2010 it has facilitated nearly 30 million searches from 155 different countries. It is updated daily, and is free to use.