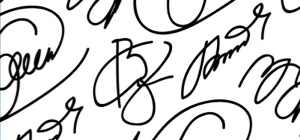 Sign your documents in person at the EUIPO.
For certain types of documents, the signature of a physical person is essential. Your name on paper, or via electronic means, is still the best indication the law has that you have agreed to what you have signed.
At the EUIPO, every legal proceeding, every application form and even every letter must be signed by a physical person, including the name and surname.
In the event that your company is the named signatory, your role in the company or your authority as signatory must be indicated.
Failure to submit a signature may generate a deficiency notification, which could result in your application being rejected or your communication not taken into account.
For more on signatures, please see the Guidelines, Part A, General rules, Section 1, Means of communication, time limits, 3.1.4 Signature.