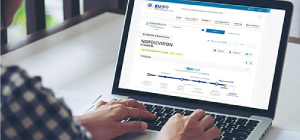 In this new feature, we share a top tip on eRegister, available via eSearch plus
eRegister is a tool that increases the traceability of register entries related to EU trade marks (EUTM) and registered Community designs (RCD) in chronological order.
With eRegister it is now much easier to review the changes an EUTM or RCD has gone through during its lifetime, such as its creation, modification and the expiration of licences. Likewise, when an EUTM or RCD has been transferred many times, it is now more straightforward to see who the previous owners were at any specific point in time.
eRegister can be accessed via the EUIPO's search tool eSearch plus. Users will first need to search for a particular trade mark or design and then click on the eRegister button located towards the top right-hand corner of their screens.
You can now also download an officially certified, print-friendly copy of all the entries in the eRegister in any of the EU official languages..