We are all a little bit different when it comes to classification
but we all want the same thing: a good list of goods and services.
With our new Goods and Services Builder, you can customise your list of goods and services using pre-accepted terms based on the Nice Classification.
Change your existing lists to pre-accepted terms easily and quickly.

Create new lists that you can reuse and update more efficiently.

And discover the Class 35 & 37 Assistant.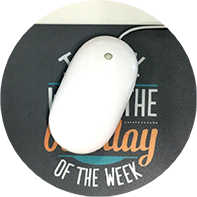 Customise your list
Our Builder complements your specialised legal knowledge.
When we ask representatives why they do not use our goods and services tools, they tell us that they work with long-established lists, that creating new lists is cumbersome, or their clients require a more tailored specification.
However, customisation and time savings do not clash with reaping the benefits of using our classification solutions. These are based on the Nice classification, and they contain pre-accepted terms that are updated continuously.
All this so you can:
Avoid classification deficiencies.

Have your application fast tracked.

Automatise creating and updating your lists.

Present more predictable specifications from a legal point of view.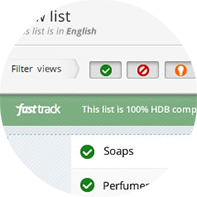 How does it work?
Its built-in guidance lets you check your own goods and services specification against our database of preaccepted terms, the HDB. You will know immediately whether your choice is compatible with the HDB or not, and the Builder with put forward suggestions based on the terms you have introduced.
You will also discover our Class 35 & 37 assistant. Use it, and forget about copying, pasting and typing when you use Classes 35 and 37.
What would you like to do?
Or just try the Builder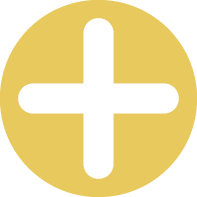 Create a list
When you create a new list, you can choose terms from the HDB or import terms from other lists.
You can add terms manually, by copying and pasting class by class.

Search our database of pre-accepted terms.

Import terms from a previous list.

Use the Class 35 & 37 assistant to add terms more quickly.
If you create a list from scratch, the best options for you are the search and the Class 35 & 37 Assistant. In both cases you will be browsing through our database of terms, so pre-acceptance is guaranteed. You can see this by the OK icon

next to the terms.
Search
Click on 'search' and select the terms that best fit your trade mark.

Your selected terms will be checked for acceptance.

Note: Only a few terms included in our database, such as class headings, are marked as not accepted. In these cases, the Builder will make a suggestion.
Class 35 & 37 assistant
If you want to introduce classes with the prefix 'retail services', 'wholesale services' or 'maintenance and installation services', you can use the assistant.

Choose your prefix and the class you would like to apply the prefix to:

The builder will introduce the prefix automatically: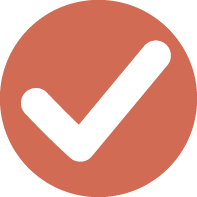 Check an existing list
If you have a previous list or you would like to add part of a list to a new specification, your best options are to add terms manually or import terms from another file.
Adding terms manually
Click on 'Manually' to introduce your terms:

Select the class they correspond to and paste them into the empty field: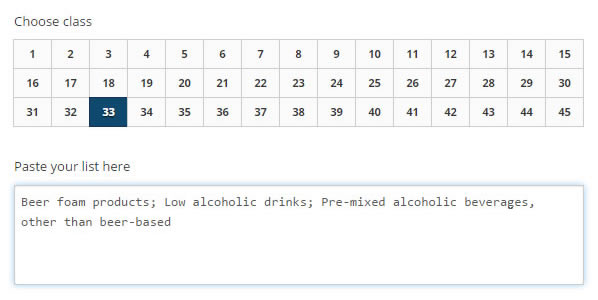 When you click on 'OK', our Builder will analyse your list and tell you whether the terms you have used are compatible with the HDB or not. If they are not compatible, the Builder will suggest terms to make them 100 % compatible.
You can also import an existing list or class.

In this case, I have added a new class, class 33.

Compatible or not compatible?
Our Builder has a simple colour and icon coding so that you can quickly see what your options are:

means that your term is compatible and will be accepted automatically.

means that your term is not fully compatible with the HDB, but that alternatives do exist. The Builder will make new suggestions so that you can choose a compatible term that resembles your initial choice more closely.
Click on the tool icon to obtain other alternative terms:

A new box will open giving new alternative terms.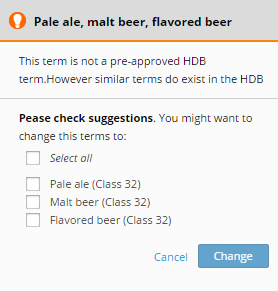 If you select the suggested terms, you will be replacing a single expression 'Pale ale, malt beer, flavored beer' with separate expressions that are automatically accepted and cover the same exact scope.

In this other case, the system not only offers you an alternative (1) for the term 'syrup' but it also lets you check the HDB search results (2) for a term that suits your needs.
'Topping syrup' is suggested to replace the non-acceptable 'syrup' expression. Does it work for you? It does for me!

If your terms correspond to a class heading from the Nice Classification that is considered too broad for registration, the Builder offers you alternatives.

You can compare your initial list side by side with the HDB equivalent terms.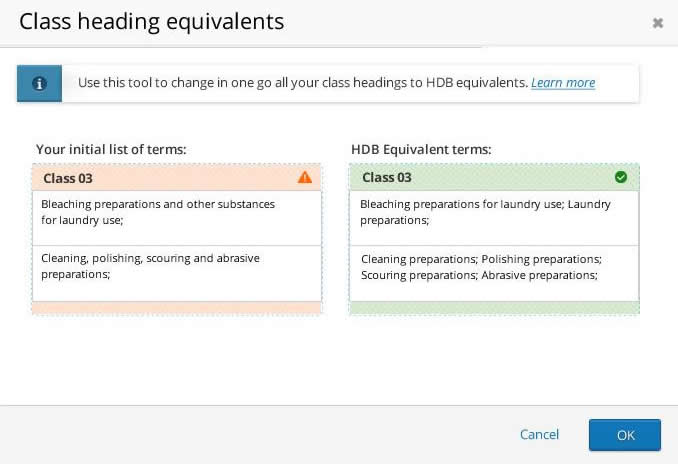 Validation is not possible, as this term does not exist in our database. Click on the icon tool for more options within the same class.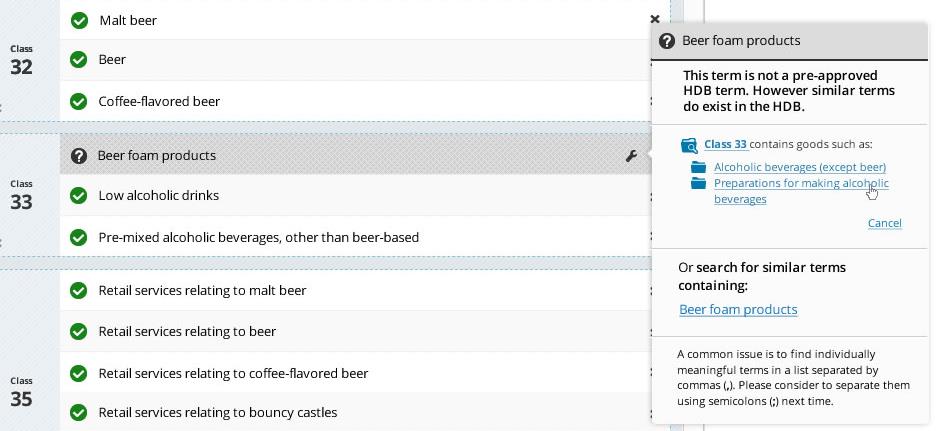 There are a few terms that are not accepted for classification purposes. You can check the complete list in the Builder.
Congratulations! Your list is now fully compatible with the HDB and you can register your trade mark via our Fast Track.
Go to the Builder