EUIPO Language Policy
The five working languages of the Office are English, French, German, Italian and Spanish. Trade mark and design applications may be filed in 23 official languages of the European Union. The EUTM and RCD Registers are published in 23 EU official languages as well. The EUIPO website content is at least published in the five Office languages and often in 18 other official ones as well.
At the EUIPO we are firmly committed to ensuring that everybody in the EU should have access to information on intellectual property rights in a language that they understand, even if that language is not their mother tongue.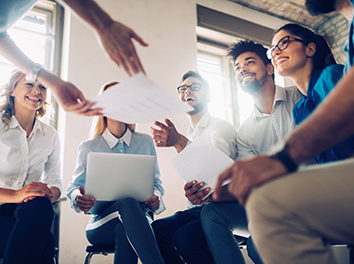 Wherever possible, we will communicate with you in your official national language. However, for any language issues concerning specific trade mark or design procedures, the respective regulations and the Office's Guidelines apply.
For further information on what languages may be used in proceedings before the Office, please refer to the relevant regulations, in particular, Articles 146 and 147 EUTMR, Articles 24, 25 and 26 EUTMIR, Articles 98 and 99 CDR and Articles 29, 80, 81 and 83 CDIR.
Find the language you want on the website
All our web pages have a drop-down menu at the top left-hand corner where you can select what language you would like to view the page in.
In addition, if you are looking for case-law to support a case before a court, our eSearch Case Law database provides machine translations to help you gain an immediate general understanding of the content of a particular judgment before investing in certified translations.
EUIPO terminology
The EUIPO provides official IP-related terminology in all EU languages. This is to contribute to legal certainty within the IP world. The terms can be accessed by anyone via the EU's interinstitutional terminology database (IATE).
Translations
Translations necessary for the functioning of the Office are translated by the Translation Centre for the bodies of the EU.
In addition, the EUIPO endeavours to use state-of-the art machine translation technology to provide its users with additional information in their own languages, even beyond the EU official languages.