Communications
You will receive official EUIPO communications in this section (if you choose the option to receive communications in your User Area when registering).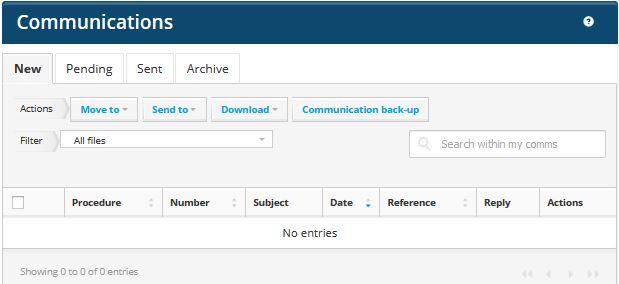 If you did not choose the option to receive official EUIPO communications electronically when registering, you can choose to do this at any time in the options section of your User Area.
Click on the envelope icon

in the Communications tab, which is on the left-hand sidebar.
There are four tabs in the Communications section of the User Area:
New — new communications are received here.

Pending — communications are stored here for later.

Sent — communications that have been successfully sent can be viewed here.

Archive — communications are stored here for future use.
Note: communications stored in the Archive and Sent tabs are automatically deleted after 30 days. If you wish to view them after this time, please go to detailed file view in eSearch plus.
Page last updated 24-02-2018