News
July 22, 2021 General
New misleading letter alert – Fake EUIPO payment reminder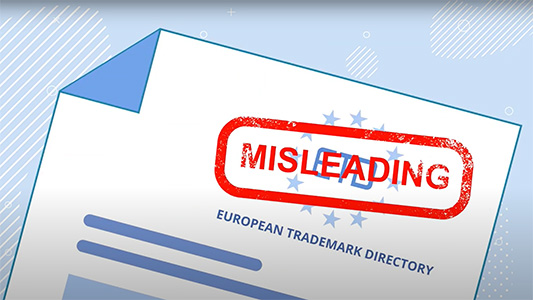 Beware of the new misleading letter in circulation! It takes the form of a fake EUTM payment reminder letter uses the EUIPO logo, name, acronym and address, and purports to be an EUTM payment reminder issued and electronically signed by a senior manager of the Office. It includes a demand for a registration fee to be transferred to a Polish bank account.
Users are reminded that they can protect themselves from misleading invoices and letters by taking careful note of the following.
The EUIPO never sends invoices or payment demands to its users. If you receive a demand for money for anything to do with your trade mark by post or email, it does not come from us. Even if it uses our logo, and appears to be official, it does not come from us.
Familiarise yourself with our fee structure (and make sure others in your firm or company are familiar with it too). All fees payable directly to the EUIPO in relation to EUTMs are laid down in Regulation (EU) 2017/1001 of the European Parliament and of the Council of 14 June 2017 on the European Union trade mark. A full list of these statutory fees can be found here. In addition, be aware that we only use two Spanish bank accounts for payments relating to trade mark and design fees.
Check everything you receive in relation to your trade mark application, registration or renewal very closely. If you have even the slightest doubt, contact us; we want you to let us know if you have received anything that looks suspicious. You can email us at information@euipo.europa.eu. We also maintain a searchable database of all misleading invoices that our users send us.
The User Area is a completely secure channel through which you can pay and receive notifications from us safely. You can sign up here.
In 2020 alone we recorded 50 % more email and phone call interactions coming from our users on matters related to these types of fraudulent activities than in the previous year.
The EUIPO will take the necessary criminal legal action against suspected offenders. We are fully committed to protecting our users, especially at this time, when fraud attempts are on the rise.
To enhance the efficiency of our actions, we cooperate closely with national and international IP offices, user associations, Europol and Eurojust in the fight against this type of fraud. So far, we have initiated over 30 legal actions against scammers in several jurisdictions before the competent law enforcement authorities and have taken other measures to secure bank account closures or administrative penalties for incompliance with data protection rules.