News
August 24, 2021 General
IP Course for Paralegals, 14-15 September 2021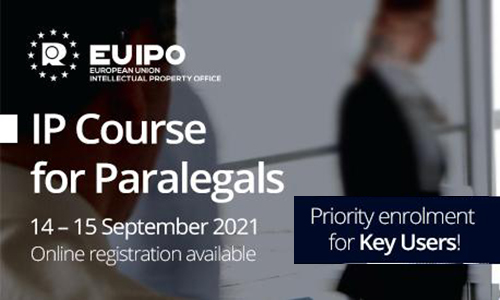 Taking into account that the maximum number of participants (300) has been reached and that there is a lot of interest in this course the number of participants has been extended to 500. The registration page will be reopened on Thursday, 26 August.
Thank you for your registration!
In September the EUIPO will organise a new edition of the 'IP Course for Paralegals'. The course will take place over two mornings – 14 and 15 September – and be held virtually using the online platform Zoom.
Paralegals, together with legal representatives, have been recognised as a significant customer group for the EUIPO. We are constantly talking to our customers, and we strive to incorporate their feedback into our work and our processes. The 'IP Course for Paralegals' therefore has been especially designed in response to the feedback from past edition's surveys. This year the course will have a hands-on approach, involving practical demonstrations, examples and exercises to give participants in-depth knowledge of the updates in the EUIPO's practice. The agenda will also include two panel discussions – one covering brand protection in the online environment and the other covering initiatives to support SMEs (EDR, pro bono services, easy e-filing, SME corner).
Please note that all presentations will be given in English.
Online registration will be open from 25 August 2021.
Priority enrolment for Key Users!
The event is free of charge.