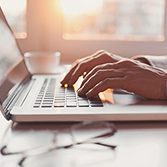 Working from home during the COVID-19 outbreak? Two suggestions for improvement to your company account in the Portal
27 April 2020
The last few weeks have been a difficult time for everyone. The IP Enforcement Portal (IPEP) team hopes you are keeping safe and well.
Now that many of us are working from home we think it is important to keep up the good work. We would be happy to support you remotely, should you decide to use this time to update the information in your account on the Portal.
As you may already be aware, 6.8 % of everything imported into the EU is fake. Customs inspect perhaps just 1 %. The remainder floods the internal market. Whereas customs receive intelligence from rights holders via AFAs (Application for Action), the internal market enforcement authorities, such as the police or market surveillance, do not receive this information.
This is where the IPEP is useful, as it can help both you and the enforcement authorities to step up the fight against counterfeiting. The products, intellectual property rights (IPR) and contact information you upload are accessible to the enforcement authorities through searches. You can also send them Alerts, using the same information as you would to complete an AFA for customs .
To help you make the most of your IPEP account we would like to suggest two important changes that you can make to improve your account information, which will make a big difference and not take up too much of your time.
Contact Points and IPR Portfolio: it takes two to tango
Two important fields in your IPEP account are Contact Points and IPR Portfolio .
Contact Points
This field is where you, as a rights holder, indicate to enforcement authorities who to contact within your company and how to contact your company in the event that they find suspicious goods relating to your IPR .
We know that one of the main challenges enforcement authorities face is identifying rights holders and their correct contact information. For this reason we ask you to keep this field as detailed as possible and to update it on a regular basis.
To make this process as easy as possible, we have included the possibility to export and import Contact Points between your different company accounts or to your desktop through an Excel template. Please find detailed instructions in our user guide.

IPR Portfolio
For enforcers, it is vital to be absolutely sure that you are the correct rights holder to contact in the event of a query related to a detained good suspicious of IPR infringement. They will look for a specific brand, product or company and check for valid IPR that they can enforce. While trade mark and design information is also available in TMview and DesignView, when this type of information is uploaded to your account it will link automatically to your contact information for enforcement matters.
Therefore, we invite you to upload the IPR that you want to include in your defence against counterfeits.
Before adding an IPR you need to choose the type of IPR you want to add — trade mark, design, geographical indication, patent, copyright, plant variety or other IPR.
For trade marks and designs, the IPEP is connected to the EUIPO registers TMview and DesignView from where you can upload your IPR directly (EU, national and international). So it is easily and quickly done. The status of these trade marks and designs is refreshed nightly, so enforcers will find the same information as in the registers of their national IP offices.
We invite you to check our user guide for step-by-step instructions on how to upload your IPR Portfolio.
If you have any questions, don't hesitate to contact your IP Enforcement Portal team at
ipenforcementportal@euipo.europa.eu
. As mentioned above, we would be happy to organise a free online training session for you to see the different features of the tool and the ways that the IPEP can help you enforce your IPR.