Споделяне по електронна поща
Новини
Юли 17, 2015 Новини
Call for proposals: list of selected projects now available
The list of selected projects for the call GR/001/15 is now available in our Grants section. ...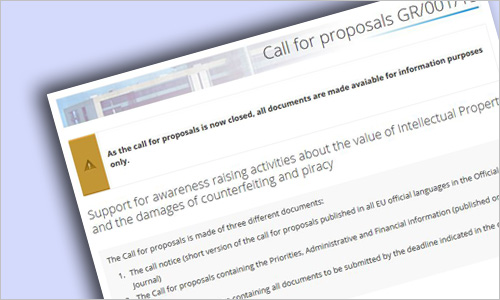 The list of selected projects for the call GR/001/15 is now available in our Grants section.

This call for proposals is aimed at supporting awareness-raising initiatives on the value and benefits of intellectual property, and on the damage caused by infringements.

Observatory studies have highlighted the need to bring IP closer to EU citizens, especially youngsters which appear to be particularly challenging IP and its respect, notably in the online environment, thus helping them to develop a better understanding of the positive value of
IP, leading in turn to a more personal involvement in its respect.
The call was published on 16 January 2015 and information was made available on the Observatory website. A total number of 130 applications to this first call for proposals were received by the deadline for submission of applications on 31 March 2015 and processed by the Evaluation Committee.
Following the evaluators' assessment, it has been decided to award 11 projects for co-financing with a total requested funding of EUR 498.452,28 out of the EUR 500.000 available for the present call for proposals.
These projects aim to respond to these challenges along 3 main lines of action:
Projects reaching out to youngsters highlighting the positive value of IP and the importance to be fair to creators & innovators, with approaches of relevance for the audience such as gamification, social media dialogue and online & e-learning activities
Projects bringing IP closer to consumers/citizens in their daily lives, at local level and highlighting the value of originals and creativity, contrasted with the damages of counterfeiting and piracy either in physical goods or digital content
Education/school projects building a better understanding of IP and of the damages of counterfeiting and piracy targeting children from various age groups
See the list of selected projects here.