Споделяне по електронна поща
Новини
Април 29, 2015 Новини
Situation report on counterfeit goods is published
Today sees the release of the first extensive and in-depth situation report on counterfeit goods in the EU...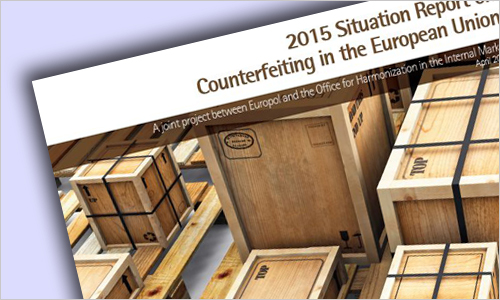 Today sees the release of the first extensive and in-depth situation report on counterfeit goods in the EU, which is the result of a joint project by EU agencies Europol and the Office for Harmonization in the Internal Market (OHIM), through the European Observatory on Infringements of Intellectual Property Rights.
Although the majority of counterfeit products in circulation in Europe are manufactured outside the EU – and evade detection at the EU's external borders - research for the report highlights how domestic EU production is on the rise with cases originating in Belgium, the Czech Republic, Italy, Poland, Portugal, Spain and the UK. This large-scale domestic production of counterfeit goods in the EU is becoming an increasingly profitable business for organised crime groups and organisations. Counterfeiters, who operate with significantly lower risks, have been found to have links with other forms of crime such as trafficking in human beings - notably for labour exploitation - as well as with other criminal groups, originating from different countries in and outside Europe.
The most significant enabler for distributing these counterfeit goods is the Internet. Consumers are drawn to e-commerce sites due to their prices, 24/7 availability and direct delivery. Some websites are of such high quality that they rival those of the rights holder. Counterfeiters are able to function across multiple jurisdictions, evading capture, and are also able to take down and set up new websites overnight without losing their customer base.
The report explores how Chinese organised criminal groups involved in distributing counterfeit goods are highly mobile, specialised teams. Those operating in Italy are known to have close relationships with the Camorra and collaborate to import counterfeit goods. Chinese diaspora communities across Europe are extensive and there is a concentration of Chinese counterfeit businesses in several Italian provinces that are all associated with the textile and fashion industries. Parts of Madrid and its suburbs have also been infiltrated by Chinese organised crime groups. These criminal groups operate across Europe and use legitimate businesses to facilitate the movement of counterfeit products. They have also established and developed collusive relationships with a network of money transfer agencies, enabling them to launder and send large amounts of money to China.
After China, India is the next priority concern due to its impact on the EU through counterfeit pharmaceutical products; Turkey for foodstuffs; Indonesia for weak legislation and corruption issues; and the Philippines for low rates of enforcement.
The 2015 Situation Report on Counterfeiting in the European Union is designed to inform the public, industry, policy makers and practitioners at EU and national level about the current situation regarding organised criminal groups involved in producing and distributing these goods on EU territory. Covering information on routes, entry points, criminal modus operandi and current activities of law enforcement and the private sector, the report also explores the links between counterfeiting and other crime areas. As well as presenting details on the scale and scope of product counterfeiting within the EU, practices and opportunities to detect, prevent and reduce the impact of counterfeiting are highlighted.
Europol's Serious Organised Crime Threat Assessment (SOCTA) 2013 identified 'counterfeit goods with an impact on public health and safety' as a recommended priority crime area as part of the EU Policy Cycle 2014-2017. Within the framework of the European Multidisciplinary Platform Against Criminal Threats (EMPACT), EU Member States and EU agencies participating in the priority area of counterfeit goods highlighted a need for a better intelligence picture on the production and trafficking of counterfeit goods in the EU. To fill that intelligence gap, Europol and OHIM were tasked with producing this report.